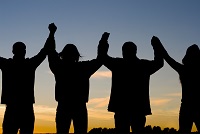 We are here for eachother Our parish prides itself in helping each other, and it is important to note that we are not as strong individually, as we are collectively as a community. It is these folks in our parish that help us give thanks to the Lord each and every day. These folks go out of their way to ensure that our parish is continuously moving forward with the Lord's teachings. We wish to thank these folks for all their efforts.
---
Ministers
A minister is any person exercising their baptismal call to serve god and the people of the church in a variety of capacities such as Deacons, Acolytes, Altar Servers, Mayordomos, Lectors, Ushers, etc...You too can be a minister of the parish by contacting the parish office. We appreciate any time that you can give to us.
---
Lectors
Lectors are an important part of our community by helping us to understand the word of the Lord. They are men and women who help articulate the teachings of the bible. During mass, Lectors read the first and second readings, which are spoken from the old and new testament. This is an assignment that requires someone who is strong minded and willing to speak in front of large groups of people.
---
Ushers
Ushers are the first folks you see when you enter the church, and they always greet you with a smile and a handshake. The Ushers will always make you feel welcome, and their peaceful personalities provide warmth in our hearts.
---
Counters
Counters are the men and women who help to record the gracious gifts that are parish offers. These folks have the important task of helping our community to distribute these gifts to the church and to charity. We are thankful for their hard work and their dedication.
---
Office Staff
The Office Staff is instrumental in providing the necessary help that our parish needs to keep running. These folks helps to keep things organized, while ensuring that our many groups have the resources they need to conduct masses, religious trips, bible studies, and many others. These are the folks who typically work behind the scenes, but provide a prodigious foundation for our parish.
---
Mayordomos
Mayordomos are very important people who help keep our churches beautiful. They help to maintain each one of our many churches, by providing repair work and ensuring that they are safe and clean. Mayordomos help to prepare the churches for funerals, weddings, baptisms, confirmations, and everything in between. We are grateful for their hard work.
---
Music
Music is one of the most important ways we can show our love for Christ, and we are very gracious to have a wonderful music staff to help guide us through song and worship. Whether it is by guitar, piano, trumpet, flute, chorus, or other instrument, it is these folks who we appreciate as we sing in joyful praise to the Lord.
---
Finance Council
The Finance Council administers the funds of the parish. This includes funds made by Sunday offerings, as well as donations made to the church. The finance council also ensures that the day to day transactions of the parish are balanced, and that the proper financial procedures are made to keep the parish operational.
---
If you would like to know more, or if you would like to participate in any of these important groups, please contact us. We will be happy to assist you any way we can.